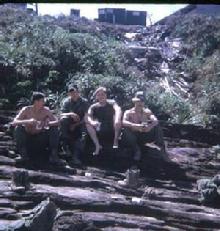 Stand-down Chu Lai 1969
01 Oct 1045
Spot Report: Company A 3rd platoon, 1 NVA killed by MAP. DTG 010945, at grid 605467. CIA: 1 AK-47 w/2full magazines, 2 chicoms, and KIA was wearing 1 NVA pistol belt w/engraved
star on buckle, green shirt and pants, Ho
C
hi Minh sandals, no hear gear.Approx 20 years old. Moving on NS trail, leads to base camp reported by A Company-30 Sept...No pack, documents or ID.
01 Oct 1305
Spot Report from Company A, 3rd platoon; Detonation 1 MAP, DTG 011245, at grid 605467. Results: 1 NVA KIA, 1 AK-47 CIA, also 2 chicoms. NVA wearing green shirt and pants, Ho chi Minh sandals, negative documents & ID, negative head gear. Could not determine age. Trail was running N-S, near location of last NVA KIA.
02 Oct 0735
Dust off, 1 US, possible rheumatic fever, litter, Sgt James Kirk. Completed 0925 hrs.
02 Oct 1635
Spot Report: Company A, 1st platoon: spotted 1 NVA in green uniform, 50 meters from position. DTG 021635, at grid 603467. moving on trail to the East. Engaged with small arms fire w/negative results. Enemy carried AK-47.
02 Oct 1845
From Bde; D Company 4/21 in contact with large enemy force, possibly larger than them (estimate of 75 NVA). 1 US WIA evacuated, 4-5 US WIA still in field at grid 742308.
03 Oct 1000
Spot Report from Recon: Spotted 3 VC moving to their location from the SE.Opened fire at 30 meters....results: 1 VC KIA. Other Enemy escaped to SE. KIA was 19 years old, and wearing black shorts, khaki shirt, negative weapons & documents. Negative footgear, and had long hair..DTG 030850, at grid 600446.
03 Oct 1630
Weather Report from Bde/Vasquez; rain & drizzle w/overcast. Wind NW at 15 knots.
04 Oct 1350
A Company requested routine dust off for Line # 54 SP/4 Larry Huber-patient had been sick for 5 days, 104 degree temperature, he is very weak. LZ at grid 606472...dust off completed at 1455 hrs.
04 Oct 1550
Late Entry- 1525 hrs. Spot Report; Point man of 1st squad, 1st platoon of Company C, spotted movement at grid 572460. He engaged with small arms fire and resulting in 2 VC KIA, 1 CIA. 2 KIA's: (1) 30 years old, wearing grey shirt, black shorts, negative foot gear. (2) 14 years old and wearing black shorts, and negative footgear. CIA 4 years old.
04 Oct 1950
A Company , 2nd squad, 2nd platoon, 3-4 personnel probing their position, hoping to draw fire. Heard noises for 30 minutes, then they received 5-10 rounds of inaccurate semi-auto fire from AK-47 at approx 100 meters. Called in Arty, which was not very accurate, and enemy fled. Negative friendly casualties, Enemy fire came from high ground to SW.
05 Oct 0730
Dust off request; C Company; 1 VC CIA approx 4 years old, under nourished, fungus-type growth on head. Routine dust off requested at grid 575462. Dust off 83 completed at 0915 hrs.
05 Oct 1010
C Company had a MAP detonate at grid 567465 at 0615 hrs. with results: 1.... 150 lb black bear KIA. Negative other findings.
05 Oct 1100
Spot Report: Recon Ref # items 22, engage 6-8 VC women and children as they were scavenging C ration on the LZ. Results; 1 VC KIA - 12-14 years old, wearing black shorts + tan shirt w/negative footgear & head gear. Documents and ID are negative. Band of VC's were first spotted by Recon, they ran and recon engaged last man at a range of approx 40 meters and resulting in the KIA. Remainder of VC escaped to the NE.
06 Oct 0728
Spot Report; A Company 1st squad, 1st platoon, found 200 lbs of corn at grid 605472. They will destroy by pouring into the river.
06 Oct 1750
Spot Report; D Company, 2nd platoon, 1st squad at grid 675304. While moving from a SE to NW direction, found a stick lying across the trail...then another stick lying on top of it pointing down the trail to a clump of bushes, that were 5 meters down the trail at grid 675304. The two sticks were checked out, and going the trail a chicom was found with a wire. This booby trap will be blown up in place.
06 Oct

1750
Spot Report; B Company, 1st squad , 3rd platoon.
Accidentally tripped a booby trap, consisting of a baseball grenade, that was placed inside a mackerel can w/a trip wire. Booby trap did not detonate-frag was a dud. Trail was running E-W...Frag will be blown up in place.
07 Oct 1050
Spot Report: D Company, had a mech detonate at grid 676297. Element checked out area and could not find the cause of the detonation.
07 Oct 1240
Spot Report; B Company 1st platoon, 1st squad, found an M-1 carbine-1 magazine w/5 rounds and having one chambered....Rifle (serial #-199440729) was found in a river at grid 644426 at 071200.
08 Oct 1510
From Warlord 15; sighted hooches at grid 606506 with bunkers and green NVA shirt, and there were signs of recent activity.
09 Oct 1130
4/3 Infantry OPCON to 198th Brigade
San Juan Hill-Log
From Bde Gilroy: BDA of Air Strike at grid 677398-2 secondary explosions and 1 bunker destroyed.
09 Oct 1520
LZ Bayonet-Log
Location to Bde (Ganoh) Company-A,C,D, & Recon at Bayonet, Company B at Bronco.

10 Oct 1120
San Juan Hill-Log
Sport Report: from Warlord 8 at grid 482435. at 1120 hrs. saw 2 NVA, one w/RPG, and the other w/automatic weapon.
Also spotted 5 fresh 51 caliber positions.
10 Oct 0001 / 2400
Bayonet-Log
Company's A-B-C-D to begin operation in the 198th Brigade. Negative results today. Warlord 7 did spot 1 NVA at 0625, engaged and inserted Blues to check out area. Findings 1 blood trail before having to extract the Blues.
11 Oct 1925
San Juan Hill-Log
From forward TOC. B Company, 3rd platoon at 1725 hrs. at grid 444885, hit unknown size booby trap resulting in 3 US WIA & 1 US KIA. Line #'s 3-36-88 are WIA. Line # 108 KIA-PFC Thomas Michael Boyer. Final report awaiting till first light tomorrow when element can check out area of incident.
11 Oct 1639
Bayonet-Log
Company B, 1st platoon at grid 444885, found 3-79 rounds & 2 cannister rounds w/bird shot taken out of one can. the rounds appeared to be new. 2nd squad at grid 459891, found 1 hooch (5'x5') with a roof & side made of straw...floor was dug out. No trails or signs of recent activity...will mech tonight and destroy later.
11 Oct 1840
Company B, 3/1 at grid 444885, went back to check the area further and while checking out the area 4 personnel hit a bobby trap and were dusted off and will have further information at first light.
12 Oct 0600
San Juan Hill-Log
From Bde/Harper: Up dated weather forecast..cloudy to partly cloudy, rainy and isolated thunderstorms Winds-NW to NE 5-15 knots...Temp 87/77... Hum95/75 Outlook some improvement.
13 Oct 0001 / 2400
There were negative significant events of military importance in the AO today.
14 Oct 1145
San Juan Hill-Log
Warlord 15; gunships received auto fire (possibly AK) at grid 618512. Engaged (no results given). Asked us to inform Bde that they were breaking station at this time...relayed to Bde.
14 Oct 1310
Bayonet-Log
Spot Report; B Company, 2nd squad, 2nd platoon, at grid 451904. DTG 141240, found 5----6'x12' bunkers 3---8'x5' hooches. 2---8'x 25 mess halls, 300 lb corn bin-empty...will destroy.
14 Oct 1310
Spot Report; A Co CP, at grid 533905. found 1 bunker, 1 hooch, 5 gal can of rice, clothes, kerosene, M-16 (serial # 946518) rusted and 1 SKS in good condition.
14 Oct 1830
Dust off from A Company 2nd platoon,-routine, 104 degree temperture, cramps 7 vomiting ....Line # 38 SP/4 Alfred Crawford ...Dust off 88 completed -it is too dark-will pick-up in the morning.
15 Oct 0950
San Juan Hill-Log
To TOC (rear) From TOC (forward) Lt Preves: Alpha's # 38 dust off to the 27 Surgical Hospital Chu Lai, due to 104 degree temperature, cramps & diarrhea.
15 Oct 0955
Rear TOC LT Prevens: Delta's Line # 70 & Line # 71 evacuated to 91st Evacuation Hospital w/

B/T-shrapnel in head, right leg, arms and chest.
15 Oct 0905
Bayonet-Log
Dust off for Delta 2nd platoon, 2 WIA from booby trap-shrapnel to the head, legs and arms.
15 Oct 0935
Spot Report; Delta 2nd platoon

was moving West from the NDP when a explosion caused frag above ground, no crater, 10-15 dispersion. Booby trap was not recently planted in thick underbrush, next to trail.
15 Oct 1215
Weather Warning; Condition # 3 .....50 knot winds in 48 hrs. Typhoon Joan 480 nautical miles E-SE of DaNang - will effect area 152400.
1325
All birds pulled back to Chu Lai because of weather. Bn CA's cancelled.
1350
Heavy severe wind warning, everything is to be tied down.
16 Oct 0415
From Bde: Defensive preparations for storm condition 2. Tasks include 1. Continue maximum effort in storm defensive preparations. 2.Cease non-essential flight operations. 3. Inspect all areas of responsibility. 4.Prepare to activate local emergency commo as required. 5. Prepare to issue field rations as required. 6. Secure records, films, tools, ammo, firearms against water damage. 7. Report this to HQ when preparations have been accomplished.
16 Oct 0430
Weather Report: Typhoon Joan was 320 nautical miles east of Chu Lai. If storm follows its present course it will be 230 nautical miles east of Chu Lai at 161300 and 120 nautical east of Chu Lai at 170100. Following its present course, storm center will impact 15 miles north of Chu Lai on the morning of Oct 17 70. Winds will be 75 knots for Chu Lai.
17 Oct 1800
Spot Report: Arty saw 3 NVA/VC at grid 589414 fired 10 CS rounds.
17 Oct 1950
Spot Report; Several bunker positions spotted 2-3 stationary lights at grid BS628371.
18 Oct 0900
San Juan Hill-Log
One individual spotted

at grid 652390. Engaged with 26 HE 4.2 rounds.
18 Oct 1800
From San Juan Hill: spotted one individual with a pack and weapon. Fired 16 105 ARTY rounds...w/negative results.
18 Oct 1455
Bayonet-Log
Spot Report; Dco 1st at grid 514897, received small arms from Southeast at 400 meters-2 RPG rounds from East 400
meters..Arty on grid 520897 fired 12 rounds & gunships engaged area. 1st platoon maneuvered on contact area, w/negative results. Found footprints running NE..checking area.
19 Oct 0910
San Juan Hill-Log
Saper 72, working Air Cav box 62 spotted movement at grid 635372, engaged with rockets w/negative results. Grid654565 had fresh trails and signs of recent activity. Grid 640360-signs of recent activity and fighting positions. Grid 620370-spotted tunnel (entrance 3' wide) trail leading up to it. Grid 661332 5 hooches 10'x20'. Engaged w/negative results.
19 Oct 0215
Bayonet-Log
At 0205 hrs. Recon platoon received 1 round of 4.2 fire resulting in 1 US WIA, A check fire was called and confirmed 0212 hrs, a Check through Divarty found that FDC of 1/4 Arty has current plots on this unit. The indication is that 1/4 failed to pass on the plots from Recon to Divarty, who evidently cleared these fires. No fires were cleared into this location by this Headquarters. Dust off was called and completed at 0250 hrs to 91st Evacuation Hospital-person being Dust off was line # 4 frag wounds to the mouth...(Masten).

20 Oct 0820
San Juan Hill-Log
C Company-Line # 74 & Line # 112 WIA evacuated NFI at this time.
20 Oct 0930
From Bato: at BS574419 Mary Jane element 1 NVA WIA...CIA 2 women, 1 pistol belt, w/AK-47 ammo. Read back on documents CIA previous day names contact elements as D403.
1250
From Company A Line # 104-Whittington, and Nielson, Mark L WIA from B/T, evacuate to 91st Evac Chu Lai .
20 Oct 1356
Dust off 54 completed, Line # 144 Hodges with 105 degree temperature .....HHC
20 Oct 0645
Bayonet-Log
C Company 2nd platoon, 1st squad, checked mech detonat -ions w/negative results. While taking in mech at grid 524954, personnel got lost and stepped on trip wire at backside of claymore results: Line # 74 head & chest and neck shrapnel wounds....Line # 112 w/ leg a foot shrapnel wounds. dust off called 0650 hrs. & completed 0707 hrs.
20 Oct 0715
Dust off 88, on leaving pick-up site collided with a Warlord LOH, both landed hard. All personnel on dust off 88 were killed. 1-2 possibility of survivors from the LOH. Prior to accident Warlord 33, asked if it could be of assistance. Maj Frakes replied with a negative, but thank you. After accident Warlord inserted blue to secure down birds.
21 Oct 2300
San Juan Hill-Log
SP/4 Aquino from HHC, while going on guard on SJH, slipped on a rock and fell, causing his weapon to discharge wounding him in the right foot ....at the 3rd toe. Wound is not serious and he will have to wait until morning. To be sent in. Line # 54
21 Oct 1450
Bayonet-Log
Aco 1st squad, 1st platoon, while moving West at grid 522896 received 5- M-79 rounds w/results 1 US WIA. Dust off 80 received rounds when inbound to pick-up WIA. Left area to check aircraft & returned to make pick-up, dust off & gunships drew fire for the second time. Dust off called at 1345 hrs. and completed 1450 hrs. # 82 multiple frag wounds to the head & chest (Forrey).


22 Oct 1215
San Juan Hill-Log
Spot Report: Bravo Company, 2nd squad, 3rd platoon, hit a small booby trap, 2 persons WIA evacuated. Time of event, 0940 hrs. at grid 633984 Line # 120 -PFC Rhodes / minor shrapnel wounds.
22 Oct 1414
Spot Report: dust off for SP/4 Aqunino HHC...Dust off 54 for gunshot wound of middle toe.
22 Oct 0940
SF Camp B-11 Log
B Company found 1 AK-47 & 1 M-16 on the ground near the tunnels...weapons are in good condition, 1st squad, 4th platoon was moving E-W near tunnels at grid 632959, will check tunnels and area.
22 Oct 1520
Alpha Company , 1st squad, 2nd platoon while moving N on trail, received 2 M-79 rounds 50 meters proximity of grid
553902. Moved further down trail and received two more rounds in the proximity of 150 meters-civilians in area prevented the use of Arty element .Enemy moved out of area...negative casualties.
22 Oct 2155
Late entry, at 1820hrs. at grid 562906, Saber 76 while flying VR along the river, spotted 3 VC/NVA evading south. His LOH went down & spotted 6 military packs hanging in a tree. Cobras engaged area with rockets & had 2 small secondary explosions-possibly caused by chicoms. LOH went down & checked area out confirming 2 VC/NVA KIA, One wearing a blue uniform and the other black pj. Darkness was coming in so they didn't insert blues. Will plan put Arty on
this area.
23 Oct 1545
SF Camp B-11
At grid 671021, the S-2 0f 1/14 Arty who was airborne at the time, spotted 30 VN's walking in a single file along the trail..towards the North and all were carrying baskets. When spotted: they began to fill the baskets w/vegetation the ground and in the rice paddy-which seemed strange to the observer.
24 Oct 2125
San Juan Hill-Log
Requested priority dust off for Line # 117 PFC Burgos-Vega, Sergio HHC ...pains in the chest, & lots of congestion, and dizzy. Request denied/not serious enough at present to obtain dust off.
24 Oct 0840
SF Camp B-11
Delta Company, 2nd squad, 2nd platoon, at grid 475908. found a Navy flare approx 2 1/2-3 ft long and 4 1/2 inches in diameter, aluminum casing: Lotno.-----68 (middle no not readable) Nomenclature: MK24 Model #4, Manufactured by Kilgore Corp. Blown in place and destroyed.
24 Oct 2250
PRU's on ambush

with 2 personnel from Alpha company engaged 27 NVA at grid 522926 proximity to position 25-30 meters results unknown, 1 US WIA, 1PRU WIA... DO called at 2050 hrs. & completed at 2130 hrs. to 91st Evacuation Hospital....Line # 51 Graham, Steve E -gunshot wounds.
25 Oct 0045
San Juan Hill-Log
From forward TOC; Alpha Company, Line # 51 wounded by Small arms fire in a ambush. Last report he was dusted off and in good condition.
25 Oct 1600
LZ Cambell Kilgore
Company Charlie CP while patrolling along a stream, spotted 3 VN persons, adjacent to them about 100 meters away. One had a M-16 & bandolier of ammo on his shoulder. These persons didn't try to evade so the KCS called them over, When they reached C Co CP location-there were only 2 persons. One continued to move toward the village according to one of the two detainees, to get the village chief. The detainee with the weapon claims to be a PF. Both detainees had negative ID......& papers. The weapon and the detainees were picked by Warlord 31.... who was in the area at the time. The Command Post waited fo
r approx 30 minutes and other person did not return with the village chief.
They then continued their patrol.
26 Oct 1432
San Juan Hill-Log
Spot Report: Dust off for HHC for Line # 166 Picart, Juan A. -back injury (possible pinched nerve)....Line # 117 Burgos Vega-chest pains.

26 Oct 0810
LZ Cambell Kilgore-Log
Bravo Company CA'ed into grid 653002 and with results; 1 VC/NVA KIA and seized 2 weapons CIA.
1035
Bravo Company weapons seized
were CIA 1 30 caliber M-1 carbine rifle w/serial # 4608706........1 9mm pistol. Documents with 2-2 element.
26 Oct 1336
The PRU's that were operating in Alpha Company AO, went into the village at grid 523928 for water, when they saw 3 VC evading and 1 carrying a weapon
. Results: 1 VC KIA & 1 WIA - the WIA got away, as did the VC w/the weapon. The VC KIA was a women. According to PRU's her name was BA TRI and she was listed as the village VC Liaison... on a list they have the VC wearing black pj's.
27 Oct 0001-2400
There were negative significant events of military importance in the AO today.
28 Oct 1700
San Juan Hill-Log
At 1305 hrs. : 2 individuals in khaki's were spotted 200 meters bunker # 16. Engaged w/8 rounds of 155 HE....Sent 7 man patrol, f
ound area recently passed through and the path leading into it. No track
s found due to large amount of rocks in the area.
28 Oct 2115
Bunker # 16 received 3 60mm mortar rounds (first believed to be M-79 rounds), 15 feet from bunker. Negative casualties. Returned fire with M-79 & 4.2 mortars.
28 Oct 0935
LZ Cambell Kilgore-Log
All personnel traveling on L-1, will have a steel pot, individual weapon, flak vest.
29 Oct 2115
LZ Cambell Kilgore-Log
At 2045 hrs.

San Juan received 2 mortar rounds with personnel in wire, at bunker # 16. At 2048 hrs., additional mortar rounds were received..Engaged suspected enemy location with 4.2 fire at 2050 hrs. Received S/A at bunker # 16...Engaged w/M-79 at 2100 hrs. FO at bunker 16 called 4.2 on suspected enemy mortars. At 2106 hrs. movement on bunker's 12-16. Engaged w/s/a at 2120 hrs. & received mortar rounds in front of bunker # 16 at 2130 hrs. Suspected movement at 2135 hrs. at bunkers 16 & 17 had an mortar round land between bunkers.
At 2150 hrs. -bunker # 21 had a light moved in front of them, Engaged with small arms fire....The light moved and personnel moved from fire.
William Finley ran into a line of fire-killing him...1 US KIA.
At 2230 hrs. bunker's # 16 & 17 received another round of mortar fire confirmed by 4.2.
30 Oct 0001-2400
There were negative significant events of military importance in the AO today.
31 Oct 1535
San Juan Hill-Log
Spot Report; 3 indivduals in brownish uniforms w/pack. Spotted outside bunker # 18 at grid 628371. At 1545 hrs.; 3 HE Arty rounds on finger. At 1555 hrs. sent out reactionary force w negative results.
Alpha 4/3 11th
Light Infantry Brigade