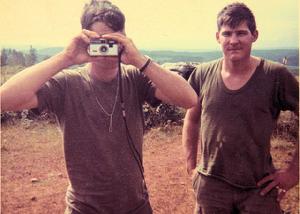 Doc Dougherty/Marino
July 1, 1970
1 July 0805
Dust off requested at 0715 hrs, Line # M from A Co 1/20 (with severe gas pains) at grid 502402. completed at 0805 hrs.
1 July 1330
A Co 1/20 requests a dust off for: Line # R (with cracked toenail and swollen toe) Garman 011250. Completed at 1325 hrs.
1 July 1950
Spot Report: from A Co 4/3, 3rd platoon w/34 element, DTG 011725 Jul 70, at grid BS 495423, a MAP detonated resulting in 2 KIA's-one woman 30 years old & one boy, 10 years old...Woman was wearing black pj's w/ no head or foot gear...Boy was wearing black pj's bottoms and green T-shirt.
Both were moving S-N & woman was carrying a pack w/contents: 2 cooking pots, 1 sheet NVA plastic (3'x4'), 1 hammock, 1 parachute (flare type), 1 lb of salt, 1 fatigue shirt-green (not US), 1 set of black pj's, 1 pair of green fatigue pants (not US), 1 AK-47 round, 1 oil lamp, 2 dozen bananas, 1 bottle US insect repellant, 1/2 lb corn, 1 homemade razor, assorted pieces of cloth, 1 homemade sewing kit, 1 VN dress, 1 shawl, 1 US canteen cup, 1 NVA canteen, 1 fountain pen and 2 lbs of rice.
2 July 1300
D Co CP at grid 498412, 020800 July: Found 4 huts on one main trail running E-W with branches running S & NW. Huts were in excellent condition and were used in the last 3-5 days. Huts were 9'x12'- 6'8' - 6'x 6' -6' x 6' . Huts were constructed with rice thatched roofs, sides were made of grass & dried leaves. There were signs of water buffalo being in the area. Area around base of a rock cliff contained equipment: nose of M-79 CS round (dud had been fired). Tobacco hanging to dry, 1 spear, 1 small cross bow. 1 basket of unhusked rice, and a small amount of cooking utensils.
2 July 1422
A Co 1/20 requests dust off for Line # S , with high temperature of 101 degrees...DTG021245 at grid
BS503413.....Completed dust off at 1445 hrs.
2 July 1325
B Co 2nd platoon at grid 493413 DTG 021145, Element found a wide trail running N-S..... They found 1 brush hut, with a thatched roof
and a cave with a 2'x3' entrance- high enough inside to stand up in hut, also a pith helmet, 1 NVA rucksack and a canteen.....2 pair of black shorts. Trail was recently used. Cave was used in the last 1-2 days...Found 1 blasting cap w/6" fuse...rice-3 LRRP bags full.
2 July 1451
A Co 1/20 1st platoon at grid 503414 DTG 021245 Element heard 40-50 rounds of automatic fire from 2-3 weapons from grid 499404, they landed in front of 1st platoon with-nega -tive casualties....Engaged with Arty 6 WP rounds & 18 HE rounds : results unknown.
3 July 0800
At 0700 hrs at grid BS490431 Co A spotted 5 VC/NVA w/rucksacks headed SW...Enemy evaded element so no engagement was possible. 5 minutes later 3 more VC/NVA 300 meters. They were North of the above grid and was moving South along the river w/heavy packs..Arty engaged and landed rounds 15 meters in front of lead man...resulting in the group splitting up to the West in the hills and across the open area to a trail in the draw, element is checking out area at this time.
3 July 2000
Spot Report: A 1/20 requests dust off for 3 EM's.
Line # M slipped on rocks and injured back.
Line # C Has twister ankle.
Line # Q Has knot on arm.
4 July 0640
Spot Report (refer item # 59, 032050 Jul 70) Results: B Co 2nd platoon S/A fire from their ambush position to voices that were heard, resulting in; 1 VC/NVA KIA who was approx 30 years old, and was wearing black shorts, green shirt and negative head and foot gear. CIA: 1 basket 1 in diameter and 2 ft tall w/2 lbs of rice, 1 dead chicken, GI pistol belt, 1 NVA poncho and 8 AK rounds.
4 July 1600
Spot Report: From A Co 2nd Platoon at grid 501425, DTG 041505. Found 11 huts...5-12'x6'.....3-15'x10'.....3-12'x8'. & found 3 cattle pens, 3 small bunkers 6'x4' off of well used trail and which runs N-S.In bunkers they found: 1 manufact -ured chicom, a poncho (green), 1 NVA uniform (green), 1 khaki shirt, 2 rice bowls, 1 had 18 AK-47 rounds & 5 spear-heads. A Co destroyed everything.
4 July 1900
Spot Report: A Co 1/20 1st platoon & 3rd platoon at Grid 511422 DTG 041630, Received approx 40 rounds of light auto weapons fire -from 2 weapons at grid 507424. Arty engaged with 2 rounds of WP...Changed grid to 512426 and engaged with 1 WP and 10 HE...results unknown.
5 July 0905
At 0835 hrs at grid BS565498 &563454. Recon spotted 1 new trail used 2-3 days ago, that was running N by NW. At 2nd grid Recon observed 1 rice paddy off the trail with 1 plow and 1 water buffalo pen...Recon is observing.
5 July

1230
Spot Report: at 1210 hrs at grid BS505444. A 1/20 from grid BS503438 they saw 1 VC at BS505444: Distance to great to distinguish what he was wearing or carrying, shot 105 mm Arty on his location with unknown results.
5 July 1430
At 1300 hrs Co D 1st platoon found at BS502426 1 hooch containing 1 lbs of documents (2 notebooks and 1 rooster of names). Hut not used in 2-3 days: hut destroyed and documents back hauled.
5 July 2250
Spot Report:From Arty inner perimeter guard between bunkers 6 & 7. Saw 1 unknown person approx 4 meters in front of their bunker. They challenged this person and he ran to the NW between bunkers #'s 6 & 7.

The unknown person ran into string with tin cans tied onto it. Arty fired one round and person evaded.
6 July 0001
There were negative significant

events of military importance in the AO today.


7 July 0435
Beacon Data from ML; Rn 377 on station 0355 hrs off 0435, ordinance 22 x 500 lb bombs covering 100% grid BS594470, bunker complex.
7 July 1005
From Warlord: DTG Of Event, 070950. At grid 614472- found fresh footprints on both sides of Song Ve...same footprints were boot prints going W-E & E-W. At grid 625468 found 3 large huts approx 9'x7'. Destroyed some of the huts , but ran out of ordinance....and could not destroy others . 1 hut looked like it was made out off plywood. Also bundles of straw and bamboo. Had large numbers of benches, which looked like a classroom. Also saw some poncho's and clothing.
7 July 1350
D Co 3rd platoon 2nd squad DTG 071345, at grid 725311, D Co 3rd platoon 2nd squad came upon 1 person 30 years old KBA. He was wearing black pj's and was traveling West on trail that runs E-W...Bundle of bananas found next to body.
8 July 1002
From Warlord 9, .....2 male VC/NVA KIA at grid 425395. One wearing a blue shirt and one with a black shirt, both were in black pants. LOH recovered 1 pistol belt and holster, 1 first aid pouch with Viet writing & 1 homemade grenade.
8 July 1740
DTG 081640. Warlord 9 to 4/3: Warlord's working box 68 obs, Base Camp under construction-center of mass 441401. 1qt A/S- 1107-1115, destroyed 3 large bunkers & 1 large structure: 2 VC/NVA KIA. Warlord had observed 3 persons in green uniforms entering structure earlier. 2d A/S 1210-1221 found 5 structures & 9 large bunkers destroyed. 3rd A/S 1247-1257 found 4 large bunkers, which it destroyed. 1715-441401 observed fresh trail going N across bomb crater. 440415. New Base Camp-10 large structures, 4 structures were destroyed...1 large structure- 20'x 70', and looked like a Mess Hall or Classroom.
8 July 2000
Spot Report from A Co 3rd platoon 2nd squad received at 1855 hrs DTG of event 17008 Jul 70, at grid BS699301, 1 MAP detonated, with results: 1 KIA, a male 25 years old moving NE-SW on trail....negative head and foot gear, wearing khaki shirt and blue shorts, and had medium length hair, wearing leather belt with brass buckle with no markings, carrying chicom & web pouch, 6 SKS rounds. 1 NVA 1st aid bandage in US case, 1 US compass case, 6' x 6'foot NVA plastic, 300 dong, 1 US sewing kit, 1 US razor, 4 Marlboroughs cigarettes (C ration type, & toothpaste).
9 July 1500
From Helix 36 to 4/3 TOC DTG 091440. At grid BS617403: Helix spotted two personnel walking through rice paddy. They went into the elephant grass to the NE.
9 July 1701
At grid BS636374: 1 slick-Chase ship in VIP party, went down at the above grid. Warlords called down to observe bird. 1551- Blues from Warlords on grid 1554...Warlord picked up crew (all 4 were ok). 1558 Crew on our pad. 1612 hrs B Co element on grid...1615 hrs Warlord blues picked up...and are breaking for fuel.
9 July 2035
Spot Report: DTG 92019 from radar at grid BS 636396 detected 6-7 packs moving W-E. Engaged w/4.2 at 2024, 10 HE, corrected w/10 HE 4.2.
10 July 0910
A Co 2nd platoon 2nd squad at grid BS666295. Element heard 8-10 rounds of semi-automatic fire. After small arms fire they heard a large explosion which either sounded like a M-79 or frag. This occurred about 500 meters to the West of Co A 2nd platoon 2nd squad, no fire was received by Alpha Company.
10 July 1530
D Co 2nd platoon 1st squad at grid BS722316 found 1 hooch 6'x 8' with a bomb shelter 6'x6' in front of the hooch, and able to sleep 2-3 people. Also 5 bunkers 25 meters South of hooch ...all bunkers were found in a draw. In one hooch they found 1 M-60 ammo box and two pairs of GI socks. Age of bunkers-1 year and hooch 4-6 months old. Trail runs SE and has fresh tracks in the area. Hooch used in the last 2-3 days.
11 July 0900
Recon CP found 2 105 HE rounds. Rounds still in container, Box shattered. Lot Nr KN 43/33B, Bird dropped box going West at a impact of 250 degrees. the rounds have been there about 1-1 1/2 weeks.....Recon will destroy in place.
11 July 0001/2400
There were negative significant events of military importance in the AO today.
12 July 1105
Company C 1st platoon DTG of event 121000. at grid BS749300. Engaged 1 VC/NVA at 50 meters the enemy was moving N-S. with negative weapons.

Dropped homemade rucksack and then evaded to the West. Enemy was wearing green and entered into the weeds and brush-Company C followed the blood trail with negative findings. Contents of rucksack: 3 one gallon cans of kerosene-1 full 2 empty. 1 carton VN cigarettes-8 packs, spaghetti, 4 new rice knives in sand bags...Equipment destroyed.
12 July 0001/2400
There were negative significant events of military importance in the AO today.
13 July 0710
B Co had a MAP go off at 2045 hrs, 12 July 70. Checked next morning and had the following results: 2 KIA VC-1 female 40-50 years old wearing khaki shirt, w/green pants. 1 young girl 10-15 years old wearing light colored blouse, black skirt. CIA: 2 empty baskets and 1 rice knife. Believe they were moving N-S and there were no more than 2.
13 July 1750
At grid BS620563, Company C 1/20 requests a dust off for Line # 107 with a temperature of 103 degrees. Requested at 1643 hrs & completed at 1713 hrs.
13 July 1805
Spot Report: A Co at 1315 hrs at grid BS622554. Element found 11 M-79 HE rounds, 1 US pineapple grenade, 650 M-16 rounds. Found in old .30 cal ammo box, and approx one year old. Also found 40 new 10 round clips (quick loads). All equipment found in spider hole.
13 July 1930
Spot Report: C Co 1/20 at 1830 hrs at grid BS619557. Found 2 huts, 1- 25'x15', 1-5'x7'. Believe the smaller of the huts is the cooking hut. Both had 2 small tunnels. Found 1 table & chairs inside / 2 tables outside. About 15' from big hut element found 1 60 mm mortar round in bamboo sticks, and about 15' from the same hut found 1 GI mess kit. Found 2 trails nearby-1 running to the West and the other to the SW. Found 1 trail running N....Found hobnailed boot tracks of several persons & 1 operable Zippo.
14 July 1310
141030 hrs A Co found 1 45 gal drum filled w/rice and well camouflaged and in a irrigation ditch. 141040-Co C 1/20 at grid BS613556 found 10 fighting positions 2'x2'x2' and had not been used in several months. 141145 Co C 1/20 found 1 sampan 30' long and had small shrapnel holes in it at grid 627558, This area shows remains of several fires and had the grass matted down where 2 men used for sleeping position.
14 July 1556
From A Co 2nd platoon DTG 141515. at grid BS623553 found 8 boats and 5 were wood planks 14' long. 6 were in good condition and 2 were bad condition. 3 boats have been recently been used...all boats were destroyed.
15 July 1055
From C Co 1/20 1st platoon DTG of event 151000 at grid 598553, had 1 VC in black Pj's KIA by M-16 at fire approx 50 meters. He was evading from a small base camp that had 1 hut made from vines, and 1 foxhole 4'x2' 1/2x 4' and 2 OP's ...man was 27 years old and was carrying a homemade rucksack, and a large knife in a sack...He had some medical supplies and extra clothing, with 10 lbs of rice, also had one NVA canteen.
15 July 1326
A Co 3rd platoon DTG of event 151210
at grid 635547 found 1 dug that is 5' deep and 4' high-3' wings to the right and left at the back of the cave. There were remains of a fire and bits of food indicate that area was used last night. Boot tracks found on a trail going E-W.... looks like those of a NVA rubber boot.
15 July 1435
A Co 1st platoon at 1400 hrs at grid 634543, found the upper half of an M-16 rifle. The barrel was sawed of half way down. There was no bolt or operating rod handle, also found the right hand guard.
16 July 1235
C Company CP requests dust off for PFC Dwayne Hoseca groin trouble-collapsed testicles and is producing fluid.
16 July 1246
Urgent dust off requested by C Co 1/20 for heat casualty for Line # 153, requested 1209 hrs completed 1238 hrs, Inform -ed TOC 1/20 and asked for name .....no line roster at their location...will get back later.
16 July 1530
C Co 1/20 requests urgent dust off for Line # 152 Heat Casualty....Requested time 1504 hrs and Completed time 1518 hrs.
16 July 1655
A Co at grid 687537 found by a stream bed, fresh cut hair in bushy area with undergrowth cut out, area was 20'x15' by a trail running NS, and found pieces of cloth and plastic.
17 July 0640
Spot Report: A Co at grid 625538 had a MAP detonate at 0100 hrs. Results were: 1 small brown monkey KIA.
17 July 0941
From TMF target, String 158 target C, 5 persons moving E-W at 2 mph and metal confirmed. Did not engage-Couldn't get clearance from Bato.
17 July 1630
Spot Report: B Co DTG 171440 at grid 614528: 1 VN female 40 years old walked up to B Co w/pack. She had numerous papers in her hand. KCS said her husband had been an ARVN and was killed by the VC. She was afraid because no US had been in the area for along time but had suddenly appeared. She said the VC came from the hills about every 7 days to get rice. She knew of no rice caches in the area.
18 July 1214
D Co 2nd squad 3rd platoon, DTG of event 181140 at grid 621518. D Co had secured area around hut and were checking area when 1 NVA walking S-N along stream bed-engaged at 10 meters KIA who was approx 24 years old and wearing a blue uniform and Ho Chi Minh sandals, pack w/ID papers, printed book. Blue shirt green pants-khaki, green GI shorts, pistol belt, 2 chicoms, 1AK-47 ser # 7337999...They will blow up chicoms and shelter.
18 July 1400
Spot Report: D Co at grid 621511, 181253: Had one MAP detonate with results; 3 VC/NVA KIA wearing grey shirt & black pj type pants, 2 wearing blue uniforms. They were on a trail going NE-SW. One blood trail, one wallet containing pictures & MACV card and ID card-Valetine card (US). second wallet unknown at this time. One AK-47 ser #11041869, one M-16 ser# 840952, one M-16 ser# 864894. One man was 20-25 years old and the second man was 18-20.
18 July 1439
C Co requests dust off at grid 760337 for Line # 99 PFC Robert Mc Kay. Requested 1421 hrs & completed 1439 hrs.
18 July 1818
Spot Report: C Co 3rd platoon 2nd squad, at grid 760320, had a MAP detonate resulting in 1 KIA, male 20-25 years old wearing green pj's & green GI shirt, green GI T shirt, bare footed, negative pack, billfold or papers of any kind. He was carrying 1 SKS with bayonet and 5 rounds in magazine.
ser # 02876...KIA was moving in a SW direction.
18 July 2115
C Co 1/20 at grid 602516, urgent, sporadic contact, dust off 89, hit in back with small arms fire
.1 US WIA.
19 July 0750
From C Co 3rd platoon 2nd squad at grid 76533195, found 1 VC KBA 20-25 age approx..Wearing black pants & green shirts (non US ) was barefooted in his pocket was Salt Tabs, cigarette paper and 1 VN lighter, and there were two blood trails to the NW.
19 July 1142
From B Co found 1 old man (50 years or older) ID card expired 1962 ....granddaughter and baby looks like girl has malaria with a temp of 104.4 degrees and baby is very warm, and both were shaking.
20 July 0931
B Co had
contact with enemy, received 4 US

WIA:
Line # 7 Adrian M. Garcia leg wound
Line # 19 SGT Terry Graham foot wound
Line # 22 SGT Louis F. Kraetic hip/ groin
Line #114 PFC Thomas K. Sparkman head
20 July 1020
Refer to item # 21, # 29. At 0850 hrs Co B 3rd platoon 2nd squad had finished picking up mech AP's and were prepar -ing to return to CP location when they received 2 grenades and sporadic rifle fire from SE. Element hit ground and returned fire while receiving s/a fire in return. They did see 1 VC/NVA w/weapon evading SE at 200 meters. Results: 4 US WIA were evacuated....Enemy casualties unknown.
21 July 1745
A Co requests dust off : Line # 11 Blankership, Horance SSG .....blasting cap detonated in hand. Requested 1702 hrs & completed 1735 hrs.
21 July 1845
Spot Report: 2nd platoon 211725, at grid 628496. Spotted 2 personnel moving to the
N

orth. Engaged with small arms fire at 40-50 meters. Area is heavily foliated. US personnel got only a glance at the evading personnel w/negative results.
21 July 1845
Spot Report: B Co CP DTG 211800. at grid 623493, found 2 bunkers 1 old and 1 new, 1 foxhole....In new bunker: found AK- 47 magazine that was full of ammo, 1 sandbag w/250-300 AK rounds and 8x20 shotgun

rounds. Bunkers & equipment destroyed. Also found RPG round.


22 July 1016
From D Co 2nd platoon 2nd squad, DTG of event 220945, at grid 624495. Found remains of base camp area & found 3 large positions-6'x10'collapsed. Found 4 x 3'x4' fighting positions and found 2 chicoms & a book with writing inside. Trail running E-W w/negative recent use.
22 July 1146
From B Co CP DTG of Event 221100 at grid 623494, found 30 RPG 7 rounds....the round they found a yesterday was a RPG-2.
22 July 1512
A Co 1/20 requests dust off for Line # C , Sp/4 Camacho, Daniel Requested 1422 hrs & completed 1512 hrs. Has blood poisoning on right hand.
22 July 1600
Spot Report: B Co CP at grid 623494, DTG 221500: Found parts for RPD machine gun: 100 ammo rings & feed tray. Found parts for 51 cal.: buffer group, 1 carrying handle, 1 sight bracket and mount, and 1 spindle. Also 1 receiver cover for AK-47 and cleaning rod for RPG launcher. Were all found on the ground just outside the perimeter covered with leaves. Parts are rusty and are unusable.
23 July 0730
From A Co 1/20 1st platoon DTG 230730 at grid 608497. Found 1 sandal -yellow, 1 black pj top, 1 empty bandolier US type. Found 1 tunnel with a opening 2'x3'-it went back 6' and then branched to the West and one branched South. The West tunnel opened into a room 6'x4'x4' high enough for 4-5 personnel. The South tunnel went 10' then up to the surface, it went 6' more and then opened into a room 3'x4'x4' high and had a small fireplace in the room.
23 July 0925
A Co requests dust off for Line # 94 Fellows, Mark PFC Cut wrist w/ machete & bleeding is under control. Requested 0907 hrs & completed 0938 hrs.
23 July 1530
Spot Report: B Co 2nd platoon DTG 231415, at grid 625486, Found: 1 hooch 30'x20' wide. Hooch had barb wire on windows and around hooch. It looked like a prison or a place to confine people. 70 lbs of rice & 20 lbs of corn were found near hooch. Corn was polished and in good condition. Both rice & corn were in 5 gal cans covered with brush and straw. 125 rounds of AK in plastic bags covered by rocks..Hooch on Trail which runs N-S (and is beaten down ) Hooch was used 4 days ago....7 typed documents found in plastic bags under rocks outside hooch.
24 July 0619
B Co had a MAP detonate and the results were 1 VC WIA, approx was 35 years old, equipment CIA 1 pack w/1 lb of rice, 1 cup of salt & 1 set of PJ.
24 July 0001/2400
There were negative significant events of military importance in the AO today.
25 July 1005
From B Co 3rd platoon, DTG 0955. Found approx 100 sandbags that were filled with some rocks & unidentified powder-the powder irritated the men's eyes, skin and nose. Plastic covered the bags...Small saplings around the sandbags to keep them in a pile....They were found in a dried up stream bed. No trails in the area..1 bag back hauled and the rest destroyed.
25 July 0800
Dust off requested 0740 hrs and complete 0801 hrs. Dust off requested for B Co 1st platoon for:
WIA
Line # 31 Lawrence White E shrapnel leg wounds Line # 111 Charles B. Roop E-3 shrapnel wounds entire body
25 July 1745
Spot Report: from C Co, 3rd platoon 1st squad at grid 764323, DTG251330: 3rd platoon 1st squad was sitting in ambush position and observed 4 VC at approx 100 meters that were moving W-E. Element engaged with small arms fire. 1 was wearing a tiger stripped shirt, 1 wearing black pj's, and 2 were in the shadows and wasn't able to determine clothing. VC returned small arms fire...Results: 1 M-16 sn # 110015. 3 blood trails are being followed at this time. VC evaded to the NE. Blood trail went for 200 meters and stopped.
26 July 1024
From A Co 2nd platoon DTG 261000 at grid 635484. found remains of old base camp and it had 9 holes 6'x68'x4' deep, They may have been bunkers. 10 scattered fighting positions 3'x3'x3' deep. 2- 82 mm mortar rounds that were very rusty and were in plastic that was weather worn...were found in a fighting position.
26 July 1630
C Co requests dust off for Line # 29 Roche, Thomas R. SGT E-5 heat casualty...requested 1535 hrs & completed 1620 hrs.
26 July 1850
Spot Report : C Co CP DTG 261725 at grid 774316, found 4 huts 3- 8'x15', 1-8'x8'...with fresh digging in the area. Huts 9-10 months old but had been worked recently...Found 3 C-ration case covers with drawings of Huey Cobra's and AK's showing how to shoot it down. Also numerous papers with Vietnam writing.....1 pot of rice 1/2 gal, 9 AK 47 rounds, 15 sleeping positions 5'x6' long, 2'-3' wide, 1 pair OD pants, 1 blue pair pants, 2 blue shirts, 1 OD shirt, 1 grey shirt, 1 US pistol belt, 1 NVA mess kit and canteen cover, 2 firing devices made of bamboo, commo wire, and old batteries.
27 July 1645
Spot Report: A Co CP DTG 271605, at grid 728313. Found 10 HE M-79 rounds off side of trail ......several old NDP's in the area, and it looks as if these were policed up from NDP's. Also found a 10 meter patch of punji sticks. Area old and burned out_Ammo was blown in place & punji sticks were destroyed.
There were negative significant events of military importance in the AO today.
28 July 1350
A Co requested a dust off for Line # 95 Nature of injury punji injury just below the knee cap. Requested 1330 hrs & completed 1350 hrs.
28 July 1453
Spot Report: A Co CP & 40 -DTG 281005 July at grid 716316:found 1 hooch 7'x10'. A bunker 2'x3'locater inside hooch-6 months old. Found 12 pieces of pottery in another bunker 5'x4' close to hooch. The trail runs N-S and hooch is close to wood line by rice paddy.
There were negative significant events of military importance in the AO today.
29 July 0655
D Co 1st platoon 2nd squad had a mech ambush detonate.
29 July 0720
From D Co 1st platoon 2nd squad DTG 290655 at grid 687315 D Co 1st platoon 2nd squad, results; 1 VC KIA age 25 and was wearing 1 GI pair of pants and GI T shirt (Green) under t-shirt had on black pj shirt, found sack of corn 1/2 bushel corn on the cob, fresh, 1 cigarette lighter. Trails run N-S and he was moving South on the trail. w/neg -ative weapons.
29 July 1005
Spot Report: from D Co 1st platoon DTG of event 290940 at grid 600304. found 2 huts 1 old 6'x 10'...1 new 8'x12' also in the process of being built 8'x12'....Found 4 bottles of bug juice, 2 PRC batteries, 15 SKS rounds, 2 GI pistol belts.

S

ome pigs and chickens have vacated this area when element moved in. The trails in the area are running N-S, with 1 running E-W. Huts were in the junction of trails and
destroyed.
29 July 1259
A Co 2nd platoon DTG 291205 July at grid 720311. A Co found 1 hooch 8'x 10'...Inside the hut was a table with rice bowls. Trail goes E-W on a well covered trail-hut is 4-5 months old with no recent activity. Hut was destroyed.
30 July 1005
D Co 1st 300945 hrs found a corn patch 25'x50' meters. It had 20 cross-bows rigged up together. They were aimed at chest high and was connected by a vine .....and the vine was set up like a trip wire.....Bows were set off and cross-bows and corn were destroyed....negative casualties.
30 July 1605
Dust off for A Co at grid 714323 for Line # 138 Sp/4 Pasquale Proiani / Bee stings
30 July 1610
Spot Report: From A Co at grid 713310 at 1600 hrs. Found 1 bunker 4'x4' w/overhead cover and next to it they found 2 lean-to. 1 had fairly new grass and was green on the roof. The other one was framed w/bamboo and both were 5'x6'. Had 2-3 acre of potatoes .....will destroy tomorrow.
30 July 1805
Spot Report-D Co at grid 699305 found 3 6'x 8' huts approx 4-6 months old (used recently). Inside hut they found 1 pint of gas, 1 GI machete, 1 GI entrenching tool, 1 NVA pistol belt and bayonet, 1 M-16 magazine w/10 rounds, 1 trip wire-75-80 ft of 18 gauge telephone wire. There were 5 trails leading into the area. Huts were destroyed.
31 July 2000
Spot Report B Co CP & 1 platoon Dtg 311530 at grid 743314, while moving to the South, broke for lunch by a
stream.
Element spotted 4 NVA going South to North. 1st & 3rd man had weapons while the others did not. They wore khaki shorts and shirts, two had belts w/NVA plastic, 1 had a pitch helmet, 2 had knives, 1 got away and 3 NVA KIA.

1 AK fold type 1966 PR 4204 2 magazines, 1 AK-47 1964 PR LK9558 2 wallets w/papers. 2 US WIA lines # 's 70 & 145-had slight injuries.
31 July 0001/2400
There were negative significant events of military importance in the AO today.
Alpha 4/3 11th
Light Infantry Brigade